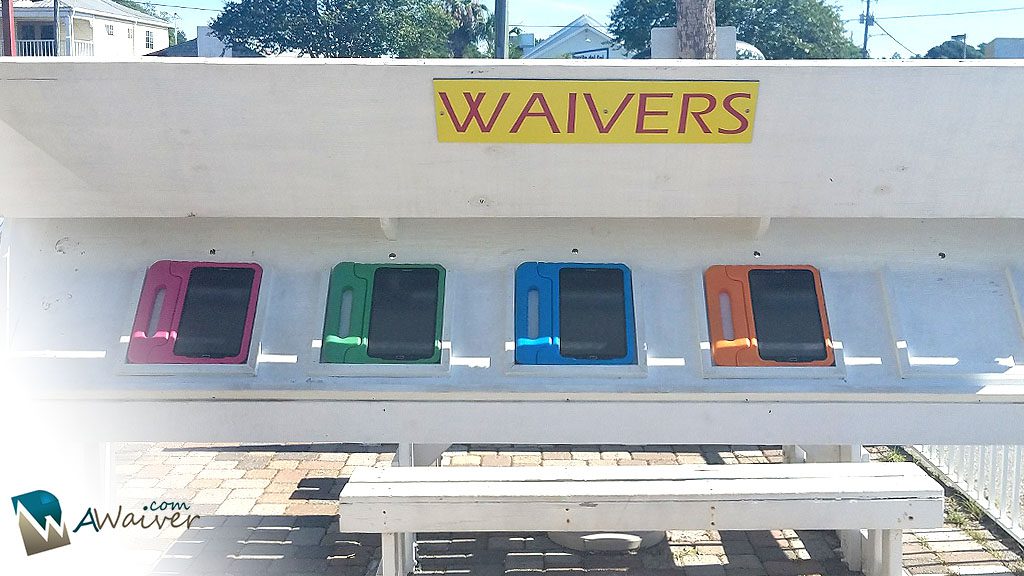 Want to Upgrade to Digital Waivers in your Business? Here's What You'll Need.
So you've decided to consider or make the upgrade from paper to digital waivers. Nice! Once you've decided to move your liability waivers to AWaiver's cloud based storage system, you'll need to upgrade your front-end operations for optimal customer experience. There are several items we recommend you invest in for your customers to have the best possible experience. Here are the top three items we recommend you invest in when upgrading from paper to digital waivers.
Wifi Connection
– It's important to have a reliable and fast Wifi connection in order for your digital waivers to load efficiently and be stored on our cloud-based database. With our latest AWaiver update, customers won't need to worry about time-out screens, either. AWaiver is now able to process multiple waivers at a time. This means that while one waiver is being signed, the previous one is being transmitted to the server. You might wonder what happens if the wifi connection momentarily shuts down? Don't worry – the digital waiver is saved to the tablet until it can be transferred to your database.
Cost: $30-50 / month depending on your internet provider
Tablet –  
There are hundreds of tablet options on the market, and as tempting as it may be to find the most affordable tablet, you should know cheaper tablets can interfere with the sign in process as they have slow processors and fewer features. This is one instance where we recommend making the initial investment in a quality up to date tablet. It's important that your tablet has a processor that was developed within the last three years to process multiple waivers at one time. Cheap tablets might be new from the store but have a processor that was developed five years ago and can't efficiently run the AWaiver software.
The tablet we recommend and use is the
Samsung Galaxy Tab A.
Its best feature is you can set the camera always to be front facing, allowing you to move from one customer to the next with ease (think selfie mode!). With cheaper tablets on the market, you can't permanently set the camera orientation to front facing. Thus slowing down the waiver signing process and hindering the efficiency of your business. We suggest having a minimum of three tablets to help check in customers efficiently, and make sure you can set that front facing camera!
Cost: 3 Tablets at $190 each = $570
Tablet Stand
– Now that you've made the investment and have great tablets to use for your digital waivers, you don't want people to walk off with them! We suggest purchasing stands for your tablets that can be secured to the countertop or floor. Stands have great features like a rotating head or waterproof case. Get what will work best for your business, but make sure to get stands that can be secured– you'll thank us during your busiest season. We recommend
Pyle Universal Table Kiosk Floor Stand Mount Holder
or
Pyle Universal Tablet Kiosk Stand Holder
available on NewEgg.com. We love NewEgg for their great discounts up to 75% off.
Cost: $64.99 – $298.00*
*Original price.
That's it! The recommended up front investment should come in at under $1,000 and will allow you to be so much more efficient in the long run. Some of our clients sign 600 waivers a day, Imagine trying to do that with faulty tablets and weak WiFi signal.
Your business will easily recoup this initial cost the first year with the savings experienced from using digital waivers over paper waivers.
The efficiency and reliability of AWaiver means you don't have to think about your liability waiver once it's been signed. Well, that is until you really need it.
Bonus: Some insurance companies offer a discount on your premium for going digital. Be sure to check with your agent!
Are you ready to invest in your business and take it to the next level?
Contact us today at bjfox@indexic.net